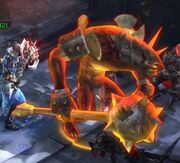 Dragus, Soldier of Hell 
is a
Super Unique
Demon Trooper
found in
Stonefort
in
Diablo III
.
In Campaign Mode, he is part of the mandatory Waiting for Reinforcements event, even though killing him is not required to proceed with the main plotline. In Adventure Mode, he is simply found in the same location, just before the bridge.
Aside from being assisted by multiple Demon Troopers and Winged Moloks, Dragus also has Electrified and Mortar affixes in combat.
Ad blocker interference detected!
Wikia is a free-to-use site that makes money from advertising. We have a modified experience for viewers using ad blockers

Wikia is not accessible if you've made further modifications. Remove the custom ad blocker rule(s) and the page will load as expected.