Energy Shield is a Sorceress Skill in Diablo II.
Sheathing herself in pure energy, the Sorceress walks fearlessly into the fray. So long as she can maintain her concentration over this magical buffer, she diverts harmful magical energies and absorbs physical harm into her store of Mana.
General Information
Edit
Synergies
Edit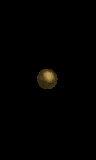 Gives synergy to : None
Receives synergy from : Telekinesis: Mana lost per point of damage is 0.0625 less per level
Although most Sorceress users tend to be a little contrarian, pumping Vitality and ignoring Energy, Energy Shield is for the conventional Sorceress, whose mana severely outweighs her life. Energy shield converts some damage she takes from life into mana; when taking very high amounts of damage, this can save a player's life, but can also eat up a player's mana, preventing them from casting spells.
Still, using this same logic, this can also allow a Sorceress to focus mainly on consuming Mana potions, using them to replenish both hit points and spellcasting ability (although Energy Shield won't convert ALL damage to mana, so some life potions might still be needed). Either way, Energy Shield is not recommended for Sorceresses with low Mana or slow Mana regeneration, since being low in either could be fatal.
Since Energy Shield is defensive in nature, it is often used by builds such as Enchantress to give them an extra edge most physical fighters don't have.
Each point in Telekinesis makes Energy Shield's damage absorption more effective. By default, for each point of damage absorbed by Energy Shield, 2 mana points are deducted, a 200% ratio. Each hard skill point in Telekinesis makes Energy Shield 0.0625 Mana per point more effective. For example, with 8 points in Telekinesis, 1.5 mana points are deducted for each point of damage absorbed, a 150% ratio. With 16 points in Telekinesis, one point of damage absorbed equals one point of mana loss, a 100% ratio. And at the maximum level 20 of Telekinesis, the ratio will be 75%.
It should be noted that when taking damage with the Energy Shield on, that resistances do not take effect as long as the damage is being done to your Mana. For example, a fire bolt dealing 100 fire damage will always do 100 damage to your mana (Before Telekinesis calculations are done).
Skill Progression
Edit
Mana Cost: 5
| Level | 1 | 2 | 3 | 4 | 5 | 6 | 7 | 8 | 9 | 10 | 11 |
| --- | --- | --- | --- | --- | --- | --- | --- | --- | --- | --- | --- |
| Damage absorbed | 20% | 25% | 30% | 35% | 40% | 45% | 50% | 55% | 57% | 59% | 61% |
| Duration | 144s | 204s | 264s | 324s | 384s | 444s | 504s | 564s | 624s | 684s | 744s |
| Level | 12 | 13 | 14 | 15 | 16 | 17 | 18 | 19 | 20 | 25 |
| --- | --- | --- | --- | --- | --- | --- | --- | --- | --- | --- |
| Damage absorbed | 63% | 65% | 67% | 69% | 71% | 72% | 73% | 74% | 75% | 75% |
| Duration | 804s | 864s | 924s | 984s | 1044s | 1104s | 1164s | 1224s | 1284s | 1584s |