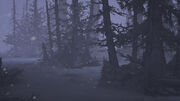 The Eternal Woods (simply Eternal Woods in game) are a zone in Act III of Diablo III introduced in patch 2.4. They are exclusive to Adventure Mode, and can be accessed by taking the Waypoint that leads to Ruins of Sescheron, then going away from the gates.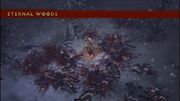 The Eternal Woods are a boreal forest located close to Sescheron. They are infested with undead, and Yeti use them as hunting grounds.[1]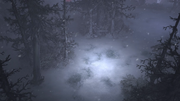 Eternal Woods are a relatively small zone. On every visit, they will have two dungeons: Dismal Abode and The Icy Pit.
It contains no special events, other than special Cursed Shrines and Chests.
References
Edit
Ad blocker interference detected!
Wikia is a free-to-use site that makes money from advertising. We have a modified experience for viewers using ad blockers

Wikia is not accessible if you've made further modifications. Remove the custom ad blocker rule(s) and the page will load as expected.