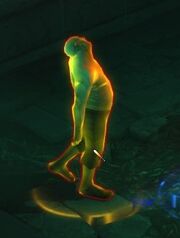 Father Rathe, Defiled Patriarch,
is a
Unique
Hungry Corpse
found in the
Decaying Crypt
Level 2 in
Act I
of
Diablo III
. He only spawns for
The Family of Rathe
event
, which always happens in this dungeon.
In combat, he has the Knockback affix. Mother Rathe (his wife) and Little Jebby Rathe (his son) attack together with him, with a small delay. Willa Rathe is his daughter.
Killing him and others will complete the event and put the family to rest.
Ad blocker interference detected!
Wikia is a free-to-use site that makes money from advertising. We have a modified experience for viewers using ad blockers

Wikia is not accessible if you've made further modifications. Remove the custom ad blocker rule(s) and the page will load as expected.