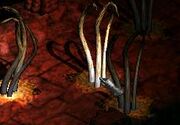 Festering Appendages are a type of summoned monster that are associated with Baal, the Lord of Destruction.
Appearance
Edit
Festering Appendages appear as tendrils which spring from the ground to attack players. Each appendage has three fingers that can strike at players as they run towards Baal.
Baal summons them during the final confrontation within The Worldstone Chamber. They will disappear after a set amount of time, but are usually hard to kill since they quickly vanish into the ground, though at times, they can be shattered using cold attacks such as Hurricane. Contrary to popular belief, they do not firmly root to the ground and players can knockback them.
Ad blocker interference detected!
Wikia is a free-to-use site that makes money from advertising. We have a modified experience for viewers using ad blockers

Wikia is not accessible if you've made further modifications. Remove the custom ad blocker rule(s) and the page will load as expected.