Fetish Army is a Voodoo Witch Doctor skill. Fetishes are small enemies seen in Act III of Diablo II.
When activated, summons 5 Fetishes armed with oversized knives who are autonomous minions following the Witch Doctor for a limited time.
Each Fetish is killable, blocks enemy pathing, and deals Physical damage on attack. They have roughly 1/2 of the Witch Doctor's total Toughness, Life, and fully benefit from most stats, but do not award Life per Hit, and their attacks have zero proc coefficient. They have very fast movement speed, and their attack speed scales with that of their master.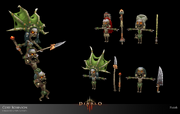 There are other ways to summon Fetishes, even if the Witch Doctor has no Fetish Army skill, but having it is the only way to enhance them with runes.
There is a hard limit of how many Fetishes can be active at a time through this skill, but the Fetish Sycophants (see the image to the right) subtype are on separate counter, have a separate limit of 15 and do not benefit from runes and most enhancements of the original Fetishes.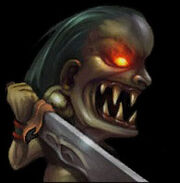 Fetish Ambush: damage type changes to Cold, and enemies in the summoning area (roughly 15 yard radius around the Witch Doctor) also suffer 680% damage as Cold when the skill is cast. Fetishes summoned through other means do not deal this damage. In addition, Fetishes become Undead.
Devoted Following: decreases the cooldown to 90 seconds.
Legion of Daggers: summons 3 additional Fetishes.
Tiki Torchers: damage type changes to Fire, and also summons two Fetish Shamans who breathe fire in a cone in front of them and deal 85% damage as Fire per tick. The cones, unlike those in Diablo II, are rather short: 10 yards at most.
Head Hunters: damage type changes to Poison, and also summons two Fetish Hunters that shoot blowdarts at enemies, dealing 130% damage as Poison.
Non-rune enhancements
Edit