Ad blocker interference detected!
Wikia is a free-to-use site that makes money from advertising. We have a modified experience for viewers using ad blockers

Wikia is not accessible if you've made further modifications. Remove the custom ad blocker rule(s) and the page will load as expected.
Fire Bolt is a Sorceress Skill in Diablo II.
The Fire Bolt is among the first cantrips a young Sorceress must learn before traveling out into the known world. Gathering a small amount of elemental energies, the Sorceress hurls darts of pure fire at those who would seek to injure her.
General Information
Edit
Synergies
Edit

Fire Ball: +14% Fire Damage Per Level
Meteor: +5% Fire Damage Per Level
Hydra: +3% Fire Damage per level
Fire Bolt is the skill the Sorceress begins with in Diablo II. She does not actually have any skill points allocated, but the Short Staff she comes equipped with gives her a +1 bonus to the spell.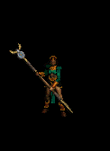 Generally, the sorceress has the choice of choosing between three spells in the beginning: Fire Bolt, Ice Bolt, and Charged Bolt. Whereas Charged Bolt can handle large groups and Ice Bolt can slow enemies, Fire Bolt does the highest and most consistent damage, making it the safest choice. It can be used against Fallen Ones quite effectively.
Although Fire Bolt is one of the weaker Fire spells in the Sorceress' arsenal, it can still be very powerful with synergies and skill point investment, though it pales in comparison to Fire Ball in almost every way. For Meteorb Sorceresses or Sorceresses that specialize in Fire Spells, Fire Bolt is a worthy investment purely for its synergy bonuses.
Skill Progression
Edit
Mana Cost: 2.5
| Level | 1 | 2 | 3 | 4 | 5 | 6 | 7 | 8 | 9 | 10 | 11 |
| --- | --- | --- | --- | --- | --- | --- | --- | --- | --- | --- | --- |
| Damage | 3–6 | 4–7 | 6–9 | 7–10 | 9–12 | 10–13 | 12–15 | 13–16 | 15–19 | 17–22 | 19–25 |
| Level | 12 | 13 | 14 | 15 | 16 | 17 | 18 | 19 | 20 | 25 |
| --- | --- | --- | --- | --- | --- | --- | --- | --- | --- | --- |
| Damage | 21–28 | 23–31 | 25–34 | 27–37 | 29–40 | 33–45 | 37–50 | 41–55 | 45–60 | 65–80 |