Firebird's Breast is a Chest piece of the Firebird's Finery set in Diablo III.
It only drops at character level 70, and only at Torment difficulty. Note that it can only be worn by Wizards.
Stats (Level 70)
Edit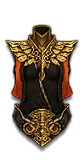 Firebird's Breast
Set Chest Armor
Set Bonuses:
Dealing Fire damage with one of the Wizard skills causes the enemy to take 1000% damage as Fire per second for 3 seconds. This effect can be repeated a second and third time by different skills. If an enemy is burning due to three different skills simultaneously, the enemy will Ignite, dealing 3000% damage per second until they die (4 pieces)
The Wizard gains +120% increased damage and 3% reduced damage taken for each enemy that is Ignited with 3 different skills. This effect can stack up to 20 times. An Ignited Elite monster grants full 20 stacks (6 pieces)
"The origins of these 'Firebird' artifacts remain a mystery to me. The designs of their magical structures are exceedingly advanced, yet the objects themselves appear to be hundreds of years old." — Magus Vaeh Callee
Ad blocker interference detected!
Wikia is a free-to-use site that makes money from advertising. We have a modified experience for viewers using ad blockers

Wikia is not accessible if you've made further modifications. Remove the custom ad blocker rule(s) and the page will load as expected.