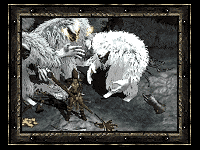 Frozenstein is a Super Unique Frozen Abyss. He is encountered in the Frozen River while you are on the Prison of Ice quest. Frozenstein guards the icy tomb holding Anya in place.
Bonuses:

This section contains facts and trivia relevant to this article.
It's name is an obvious reference to Mary Shelly's horror novel, Frankenstein.