Furious Charge
Talk

0
7,099pages on
this wiki

Furious Charge is a Might Barbarian skill, unlocked at level 21.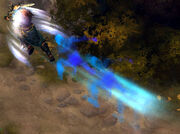 The Barbarian rushes with triple speed to the targeted location (anywhere within 40 yards). Enemies along the Barbarian's path are knocked back up to 10 yards and suffer 360% damage as Physical. Overall, it is a dashing attack that works almost like Dashing Strike, and can be used as a teleportation if needed.
Cannot Charge through solid walls and impassable terrain, as well as through the Waller affix barriers. Furious Charge may, however, make some turnarounds to bypass obstacles and corners if needed.
Generates 15 Fury, and has a 10 seconds cooldown.
Battering Ram: damage type changes to Fire, and the damage is increased to 760%.
Merciless Assault: for every enemy hit by the Charge, the remaining cooldown is reduced by 2 seconds, up to 5 enemies per Charge.
Stamina: generates 10 additional Fury for each enemy hit while charging.
Bull Rush: all enemies hit are stunned for 2.5 seconds.
Dreadnought: all enemies hit are also pulled to the destination point instead of being knocked back.
Non-rune enhancements
Edit
The Legacy of Raekor Set (Set Bonus for 5 items): Furious Charge gains all runes at once; damage type is determined by the selected rune.