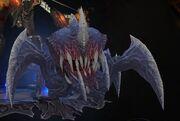 Galthrak the Unhinged
is a non-combat pet in
Diablo III
, added in patch 2.4.1. It drops from
Menagerist
Treasure Goblins
.
A tiny, strange being. From the time he was a broodling, all he wanted to be was a Rift Guardian. He studied for many years, but was ultimately found wanting. Take him on a rift with you, and he'll be happy.
Ad blocker interference detected!
Wikia is a free-to-use site that makes money from advertising. We have a modified experience for viewers using ad blockers

Wikia is not accessible if you've made further modifications. Remove the custom ad blocker rule(s) and the page will load as expected.