This page contains obsolete content
This article contains information that is no longer relevant to gameplay, but is kept here for informational purposes.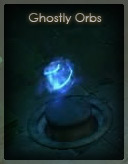 Ghostly Orbs were objects akin to monster generators, creating a Wraith every few seconds until they are destroyed. They have only been seen in the WWI 2008 movie, when four of them emerged from the floor in a trapped room and began producing wraiths as soon as they are active. 
The Orbs do not appear in the released game, but similar mechanics are used by Summoners, as well as Imp orbs in the Archives of Zoltun Kulle.
Ad blocker interference detected!
Wikia is a free-to-use site that makes money from advertising. We have a modified experience for viewers using ad blockers

Wikia is not accessible if you've made further modifications. Remove the custom ad blocker rule(s) and the page will load as expected.