Gillian
Talk

0
6,007pages on
this wiki

Gillian the Barmaid is the barmaid who works for Ogden in the town of Tristram in Diablo I. Her ailing grandmother prevents her from leaving the town despite Diablo's evil emanating from the labyrinth. Although rumors have it that she was planned to have a larger part in the game, in the finished game she is not directly related to any quests.
Biography
Edit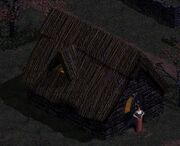 She has many kind things to say about a couple of the inhabitants of Tristram, especially Ogden and Pepin. She is wary of Adria.
Wirt has a crush on her in Diablo I, as he reveals to the Hero that he would like to take Gillian away with him when he leaves the town, as well as 'showering gold and riches' upon her. He also mentions a secret project that requires 'a great deal of gold' to the Hero; whether this means setting Gillian up for life or financing some other scheme is not revealed. Sadly, Wirt is killed in Diablo II and is not able to reach this lofty goal. Gillian, on the other hand, while sympathizing with Wirt's previous traumatic experiences, only sees Wirt as "a mean spirited youngster," but harbors memories of Wirt's deceased mother, Canace, as they grew up together.
Gillian also states that she would love to repay Ogden and his wife for their kindness for taking her and her ailing grandmother in and letting her work at the inn by helping them to set up a grand hotel in the East, should the opportunity ever arise.
Diablo III: The Order
Edit
Deckard Cain eventually learned that she fled Tristram with the Witch, Adria, in spite of her initial mistrust of the woman. She was charged with taking care of Adria's daughter, Leah, in Caldeum while the witch disappeared.
However, her encounters with the demons from Tristram had corrupted her mind, body, and soul --- Deckard Cain speculated that she would be forever. Her ultimate fate held in being sent to the Caldeum madhouse, where the insane and damned were locked up and harnessed (much to the dismay of Deckard). He then took custody over Leah.
From Diablo
Edit
It would take someone quite brave, like you, to see what she is doing out there.
I know that both Pepin and Ogden feel sympathy for him, but I get so frustrated watching him slip farther and farther into a befuddled stupor every night.
Diablo III: The Order
Edit