Ground Stomp
Talk

0
6,174pages on
this wiki
Ground Stomp
Fury Generator
Generate:

15

Fury
Cooldown:

12

seconds
You stomp the ground soundly, stunning enemies within

12

yards of the blast for

4

seconds. Only generates Fury if you hit an enemy.
Ground Stomp can be affected by
Deafening Crash
,
Trembling Stomp
,
Foot of the Mountain
,
Wrenching Smash
and
Avalanche
.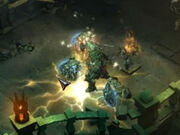 Ground Stomp is reminiscent of the Diablo II Barbarian skill War Cry, that stuns and knocks back monsters in a small radius around the barbarian. It has a cooldown, preventing the player from repeatedly using the skill if/when the affected monsters become unstunned.
While stunned, stars are shown spinning around their heads, and their defense is lowered and monsters that carry shields will drop them, making them very easy prey for the Barbarian's other attacks.
The attack animation of the Ground Stomp causes the ground to crack and shatter and sends shockwaves of air all round the Barbarian. This is reminiscent of the Tauren Chieftain's War Stomp skill from Warcraft III.