Halbu is a resident of the Pandemonium Fortress. His faith is unshakable, and he comes across as being a zealot.[1]
Biography
Edit
To Hell and Back
Edit

Halbu was present in the Pandemonium Fortress during the arrival of a group of mortal heroes who were pursuing Diablo.[1] He and Jamella had come to the fortress with the explicit intent of helping the heroes.[2] While not working in his shop, he prayed fervently for their success.[1] (which they achieved).[3]
Reaper of Souls
Edit
"The fortress has changed since then. Its new master did not suffer our presence for long."

—

Jamella(src)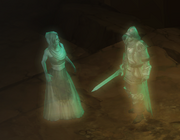 Halbu and Jamella were within the Pandemonium Fortress when Malthael chose it as his abode. Both of them were killed. However, they remained in ghostly form, where they aided the Nephalem.[2]
Diablo II
Edit
In Diablo II, Halbu is one of the two NPC merchants found in the Pandemonium Fortress of Act IV. Like his counterpart Jamella, he speaks very little, never offering advice or opinions on any quests. Halbu's only words are spoken, and selected from a variety of short phrases. He offers one each time a particular character returns to town.
Despite his near-silence, Halbu is a very useful NPC. He sells a wide variety of armor and weapons, along with bolts and arrows. He also handles the repair tasks in Act IV. When not engaged with the player, Halbu can often be seen kneeling in prayer.
Quotations
Edit
"Hail to you, Champion."
"What do you need?"
"Hello."
Diablo III
Edit
Halbu appears as a ghost in Act V of Diablo III, on level 1 of the Pandemonium Fortress. They give the player(s) a quest to destroy a Scavenger and soul-harvesting devices.
Quotations
Edit
"The fortress has changed since then. Its new master did not suffer our presence for long." ("About the Spirits")
References
Edit
↑ 2.0 2.1 Diablo III, Act V
Ad blocker interference detected!
Wikia is a free-to-use site that makes money from advertising. We have a modified experience for viewers using ad blockers

Wikia is not accessible if you've made further modifications. Remove the custom ad blocker rule(s) and the page will load as expected.