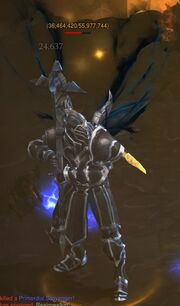 Haziael, The Lost Angel, 
is a
Unique
Angel
found in the
Realm of the Banished
in
Act V
of
Diablo III
.
He is hostile to the player, and, strangely, not hostile towards the other monsters (including demons) in the area. Haziael's wings, just like the wings Erelus, are black in color, apparently a result of long separation from the Crystal Arch.
In combat, he has Reflects Damage, Fast and Electrified affixes.