Heart of Iron is a legendary chest armor in Diablo III. It requires character level 8 to drop.
Prior to Patch 2.1, it was the only Chest Armor with the Life on Hit guaranteed roll.
As of 2.4, it also gained a unique affix that increases Thorns by a percentage of the Nephalem's Vitality. Thus, it is specifically designed for Thorns builds, particularly Crusaders. Combined with Thorns of the Invoker, this can quite literally turn the health of the bearer into a deadly weapon.
Stats (Level 8)
Edit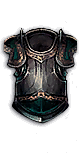 Heart of Iron
Legendary Chest Armor
Properties:
+18–23 Vitality
+2 Thorns Damage
Gain Thorns equal to 250–300% of current Vitality.
One of 3 Magic Properties (varies):
+2 Random Magic Properties
The blessed armor of Olenna the 'Iron Crusader' eventually passed to her apprentice, who proudly wore it alongside her own. Though she took her master's name, she was ultimately known with a very different moniker. — Abd al-Hazir, The Crusaders
It is said that those who wear this breastplate will display extraordinary valor in even the direst of circumstances. (pre-2.4 description)
Ad blocker interference detected!
Wikia is a free-to-use site that makes money from advertising. We have a modified experience for viewers using ad blockers

Wikia is not accessible if you've made further modifications. Remove the custom ad blocker rule(s) and the page will load as expected.