Ad blocker interference detected!
Wikia is a free-to-use site that makes money from advertising. We have a modified experience for viewers using ad blockers

Wikia is not accessible if you've made further modifications. Remove the custom ad blocker rule(s) and the page will load as expected.
Heart of the Crashing Wave is a Chest Armor piece of the Raiment of a Thousand Storms set in Diablo III.
It only drops at character level 70, and only at Torment difficulty. Note that it can only be worn by Monks.
Stats (Level 70)
Edit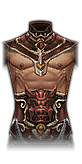 Heart of the Crashing Wave
Set Chest Armor
Set Bonuses:
Spirit Generators have 25% increased attack speed and 100% increased damage (2 pieces)
Dashing Strike spends 75 Spirit, but refunds a Charge when it does (4 pieces)
Spirit Generators increase the weapon damage of Dashing Strike to 12500% for 6 seconds, and Dashing Strike increases damage dealt by Spirit Generators by 1250% (6 pieces)