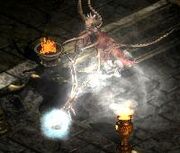 Hellish Projectile (also known as Skull Missile) is a lethal Monster Skill and the signature move of Mephisto, the Act Boss of Act III in Diablo II.
Hellish Projectile looks like a white, blazing orb and is fired in a straight line. An 'incoming missile' sound can be heard as well.
Hellish Projectile can be very dangerous as it deals horrible damage, usually killing Hirelings and minions in a single hit. Players can expect to relinquish at least a third of their health. Mephisto only uses Skull Missile when at range, so closing in on him should remove the danger.
Ad blocker interference detected!
Wikia is a free-to-use site that makes money from advertising. We have a modified experience for viewers using ad blockers

Wikia is not accessible if you've made further modifications. Remove the custom ad blocker rule(s) and the page will load as expected.