"None may see us and live."

—

Hematic Father Feldman(src)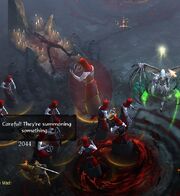 Hematic Father Feldman, Ambassador of Blood, is a Super Unique Hematic Priest found in the Shrouded Moors in Act II of Diablo III. He always appears along with the Blood Collection event at the rise amidst the Moors.
He is encountered, along with his followers, as they are harvesting blood of a captured nephalem warrior, but will immediately attempt to seize the Nephalem, seeing their blood more potent.
In combat, he is initially invulnerable, until his Priests are defeated. He then summons more of them, and has Thunderstorm, Mortar, Molten and Jailer affixes. Killing him allows to put the nephalem victim out of misery and conclude the event.
Ad blocker interference detected!
Wikia is a free-to-use site that makes money from advertising. We have a modified experience for viewers using ad blockers

Wikia is not accessible if you've made further modifications. Remove the custom ad blocker rule(s) and the page will load as expected.