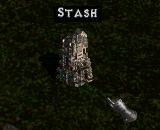 Hidden Stashes are any of numerous Containers found throughout the game that can be opened for potential treasure.
Many are merely called "Stash", which should not be confused with your Stash.
Various stashes found in Act III are somewhat unique in that they take time to open. If rigged with traps, the trap may spring before the loot is even released.
One type of Hidden Stash looks more like an enlarged Hung Skeleton.
Ad blocker interference detected!
Wikia is a free-to-use site that makes money from advertising. We have a modified experience for viewers using ad blockers

Wikia is not accessible if you've made further modifications. Remove the custom ad blocker rule(s) and the page will load as expected.