"Hollow Ones wish their unlife upon all others, and thus seek to empty the organs out of living creatures they encounter."

—

Monster summary(src)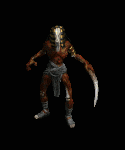 Hollow Ones are the most basic form of the Greater Mummy monster. They spawn in the Halls of the Dead in Act II, and possess Lightning immunity in Hell difficulty. They are usually found with several skeleton minions. They are able to resurrect any undead bar their own kind, similar to a Fallen Shaman.
Statistics Table
Edit
| | Normal | Nightmare | Hell |
| --- | --- | --- | --- |
| Level | 15 | 44 | 79 |
| Experience | 252 | 13227 | 129123 |
| Hit Points | 100-123 | 1354-1673 | 7002-11533 |
| Melee Attack 1 | 12-16 | 40-51 | 100-127 |
| Attack Rating 1 | 135 | 1411 | 5086 |
| Melee Attack 2 | 12-16 | 40-51 | 100-127 |
| Attack Rating 2 | 135 | 1411 | 5088 |
| Defense | 75 | 748 | 1855 |
| % to Block | 0 | 15 | 33 |
| Damage Resist | 0 | 0 | 33 |
| Magic Resist | 0 | 0 | 20 |
| Fire Resist | 0 | 0 | 20 |
| Cold Resist | 0 | 0 | 20 |
| Lightning Resist | 0 | 0 | 100 |
| Poison Resist | 50 | 50 | 50 |
| Drain Effectiveness | 100 | 66 | 33 |
| Immunities | - | - | Lightning |
| Chill Effectiveness | 50 | 33 | 25 |