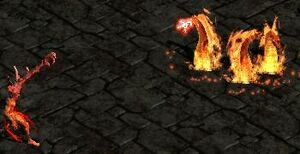 This skill is used by the Council Members encountered in Act III and even in The Worldstone Chamber in Nightmare and Hell difficulty. It behaves in every way like the Hydra created by a Sorceress. It summons a three-headed beast which fires a volley of Firebolts.
Note, however, that the Council Members will also cast lightning simultaneously while summoning their Hydras.
Though a lone hydra is not so deadly, it can be annoying. However, Council Members are encountered mostly in groups who summon many hydras at a time which can cause serious trouble to players with poor fire resistance. It is generally a good idea to lead the Council Members away from that area and engage them once you are out of the range of the Hydra's projectiles.
Ad blocker interference detected!
Wikia is a free-to-use site that makes money from advertising. We have a modified experience for viewers using ad blockers

Wikia is not accessible if you've made further modifications. Remove the custom ad blocker rule(s) and the page will load as expected.