For other uses of inferno, see
Inferno
.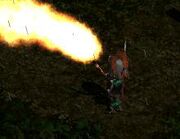 The Inferno monster spell is the same as the Sorceress' skill. It is essentially a flamethrower that is shot from the front of the caster and goes on for a brief distance. The Fetish Shaman and the Venom Lord, as well as their variants, use this skill. In Act III, players may get into trouble with this skill's use by the Shamans if they don't have high enough Fire resistances complicated by the Fetishes following him charging the player.
The Vampires will usually cast Inferno when attacked with Melee Weapons at close range.
Ad blocker interference detected!
Wikia is a free-to-use site that makes money from advertising. We have a modified experience for viewers using ad blockers

Wikia is not accessible if you've made further modifications. Remove the custom ad blocker rule(s) and the page will load as expected.