Ad blocker interference detected!
Wikia is a free-to-use site that makes money from advertising. We have a modified experience for viewers using ad blockers

Wikia is not accessible if you've made further modifications. Remove the custom ad blocker rule(s) and the page will load as expected.
Inner Sanctuary


Class: Monk
Required Level: 22
Skill Category: Defensive
Active
Cooldown: 20 seconds

Create a runic circle of protection on the ground for 6 seconds that reduces all damage taken by 55% for all allies inside.

Damage Type: Holy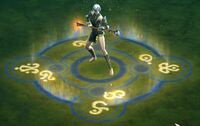 Inner Sanctuary is a Defensive skill used by the Monk in Diablo III.
When cast, creates a glyph on the ground, centered on the Monk, forming an 11-yard range area for a short time. The Monk and allies standing in this circle suffer less damage from all enemy attacks. The circle doesn't follow the Monk.
Unlike other Monk defensive skills, Inner Sanctuary actually has animation, and therefore cannot be cast on the move.
Non-rune enhancements
Edit
The Mind's Eye (Legendary Spirit Stone): Inner Sanctuary also increases the Monk's Spirit regeneration by 10-15 per second while standing in it.
Vigilance (Legendary Polearm): chance on being hit to cast Inner Sanctuary, benefiting from runes and enhancements, but on separate cooldown.
Development
Edit
This page contains obsolete content
This article contains information that is no longer relevant to gameplay, but is kept here for informational purposes.
Originally, the Monk was supposed to have a similar skill named Impenetrable Defense. In the final game version, it was replaced with Serenity and Inner Sanctuary.
Screenshots
Edit