Jade Talon is a unique Wrist Sword from Diablo II.
With a good Mana leech, Jade Talon is the only unique katar that gives specific bonuses to Shadow Disciplines. However, Jade Talon's advantage lies in defense; it is the only unique katar to give a boost to all Resistances, useful in Nightmare and Hell mode.
Jade Talon
Wrist Sword

Damage
: (98-115) To (130-153)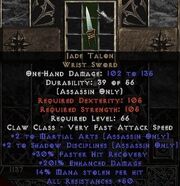 Required Level: 66
Required Strength: 105
Required Dexterity: 105
Durability: 56
Katar Class - Very Fast Attack Speed
(Assassin Only)
+190-240% Enhanced Damage
+1-2 To Martial Arts (Assassin Only)
+1-2 To Shadow Disciplines (Assassin Only)
+30% Faster Hit Recovery
10-15% Mana Stolen Per Hit
All Resistances +40-50
(Only Spawns In Patch 1.10 or later)
Ad blocker interference detected!
Wikia is a free-to-use site that makes money from advertising. We have a modified experience for viewers using ad blockers

Wikia is not accessible if you've made further modifications. Remove the custom ad blocker rule(s) and the page will load as expected.