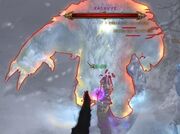 Kashyyk, Forest Dweller, is a Unique Yeti found in Eternal Woods in Act III of Diablo III.
In combat, he has 2 random affixes, changed in every game.

This section contains facts and trivia relevant to this article.
The name and title of this monster are a possible reference to Kashyyyk from Star Wars franchise, the forest-covered homeworld of Wookiees.