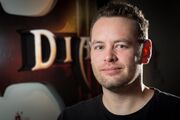 Kevin Martens is a lead designer for Diablo III.
In addition to computer games, Martens is an accomplished chef, and likens the mixing of flavors in unexpected and enjoyable ways to the process of game design.[1]
Biography
Edit
Martens played Diablo when it came out. He called in sick for work in order to do so. When he encountered The Butcher, his character died almost instantly.[2]
Martens's design experience stems back to at least 1999.[3] Before joining Blizzard Entertainment, he worked at BioWare, where he held leadership roles in the development of the Baldur's Gate series, Neverwinter Nights, Jade Empire, and Dragon Age: Origins. He joined Blizzard in early 2009 as Lead Content Designer, becoming Lead Designer in early 2012.[1] As lead designer on Team 3, Martens is responsible for overseeing the creation and refinement of the game's levels, classes, rules, story, and monster and treasure distribution, among other areas.[1] He worked on the design of the Crusader, inspiring its "tank meets medieval warrior" ethos.[4]
References
Edit
↑ 2016-11-07, Diablo III: Diablo 20th Anniversary Panel (BlizzCon 2016). YouTube, accessed on 2016-11-07
↑ 2015-02-28, GDC 2015 Moscone: Blizzard Entertainment Schedule. Blizzplanet, accessed on 2015-02-03
↑ 2013-09-26, Crusader and the Templar. Blizzard Entertainment, accessed on 2013-09-26
Ad blocker interference detected!
Wikia is a free-to-use site that makes money from advertising. We have a modified experience for viewers using ad blockers

Wikia is not accessible if you've made further modifications. Remove the custom ad blocker rule(s) and the page will load as expected.