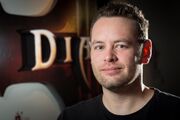 Kevin Martens is a lead designer for Diablo III. He worked on the design of the Crusader, inspiring its "tank meets medieval warrior" ethos.[1]
As lead designer on Team 3, Martens is responsible for overseeing the creation and refinement of the game's levels, classes, rules, story, and monster and treasure distribution, among other areas.[2]
Martens's design experience stems back to at least 1999.[3] Before joining Blizzard Entertainment, he worked at BioWare, where he held leadership roles in the development of the Baldur's Gate series, Neverwinter Nights, Jade Empire, and Dragon Age: Origins. He joined Blizzard in early 2009 as Lead Content Designer, becoming Lead Designer in early 2012.
In addition to computer games, Martens is an accomplished chef, and likens the mixing of flavors in unexpected and enjoyable ways to the process of game design.[2]
References
Edit
↑ 2013-09-26, Crusader and the Templar. Blizzard Entertainment, accessed on 2013-09-26
↑ 2015-02-28, GDC 2015 Moscone: Blizzard Entertainment Schedule. Blizzplanet, accessed on 2015-02-03