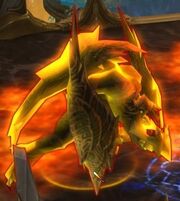 Khatun, Sky Terror,
is a
Unique
Armored Destroyer
found in the
Gardens of Hope
Level 1 in
Act IV
of
Diablo III
.
In combat, it has Molten, Mortar and Teleporter affixes. When found, he will not drop from the sky, but rather wait on the ground, usually immediately to the north of the entrance.

This section contains facts and trivia relevant to this article.
"Khatun" is a female equivalent of the "Khan" title.
There is also a World of Warcraft Old God named C'Thun (pronounced "Ka-Thune").
Ad blocker interference detected!
Wikia is a free-to-use site that makes money from advertising. We have a modified experience for viewers using ad blockers

Wikia is not accessible if you've made further modifications. Remove the custom ad blocker rule(s) and the page will load as expected.