Kormac
Talk

2
5,080pages on
this wiki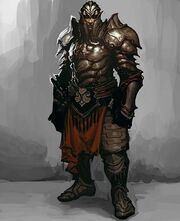 "I will never succumb to your evil."
—Kormac
Kormac the Templar is one of the three Followers featured in Diablo III.
If the player saves him from the Dark Cultists on level 3 of the Cathedral, he will ask the player to help him retrieve his items.
After the player retrieves his items, he will accompany you through the rest of level 3, culminating in a showdown with his old brother-in-arms Jondar, who has become a necromancer serving the Dark Coven. After dispatching him, Kormac will become a follower, with his only stipulation being that he be allowed to keep the sacred tomes of his order that you find on your journey.
Background
Edit
The templar are holy warriors, fighting for justice and eschewing the dangers that lead to cultism and demonic possession by espousing self-denial. They do not merely pay lip service to protecting the realm - they are battle-trained and experienced to a man, and the brooding, dedicated Kormac is a paragon among them.
Kormac came to the order as a young man, and was quickly molded into the ideal templar, adapting naturally to an ascetic way of life. His devotion is particularly unshakable, even for one of his order, and, despite his respect for battle prowess, his disdain for those who don't share his high moral standards is readily apparent.
Though Kormac's ways will not always be your own, your aims and goals align, and so he will fight alongside you to purge the world of the insidious darkness that would hide from the light of Heaven.
As they journey together the Hero begins to ask Kormac about his past prior to joining the Templars, of which Kormac has no memories. He explains that like many Templars he was once a criminal who was purged of his evil ways and made to serve the light, forgetting his past. The Hero continues to as ask Kormac if he ever wantes to learn of his past, and persuades him to look into it, using the information from a book that his traitorous comrade Jondar had in his possession.
As Kormac reads the book he grows worried that he could be being corrupted like Jondar was, and fall back to his old ways. Kormac finds information on the Order that shocks him, and comes to a passage which undoes the spell that removed his memories when he reads it, allowing him to remember his past.
Kormac realizes that he was not a criminal as he was told, rather a farmer. The Order's Inquisitors saw his great potential to be a warrior, and forcibly took him as a recruit, stacking false charges upon him to frame him as a criminal so they could turn him into a Templar. Even more disturbing he finds magical inscriptions similar to those on Tyrael's armor.
From the information in the book Tyrael comes to the conclusion that certain members of the Order have been experimenting with turning the Templars into living weapons, and researching the possibility of using Angelic weapons to combat a possible attack from the High Heavens, which he admits might have come before, but would never happen now. Despite all that he has learned, Kormac still holds faith in the Order and says that when the Hero's journey is over, he will plunge his spear into the ground before the Order and demand the truth from those responsible for what happened to him, and the other secrets he has learned - even if it means he must battle every champion in the Order to do it.
Equipment
Edit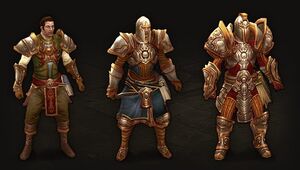 Kormac rushes head first into combat, garbed in heavy armor and brandishing his one-handed weapon and shield. His imposing figure and righteous battle cries inevitably draw the attention of most servants of the Burning Hells away from you, though he fights with more of a focus on slaying his foes than on self-preservation. Throughout your journey, Kormac collects Templar Relics – chalices, scriptures and fragments of sacred weapons that lend him purpose and power.
Available equipment:
Amulets
Rings
Shields
Daggers
One-handed Axes
One-handed Maces
One-handed Spears
One-handed Swords
Templar Relics (special item)
Many of Kormac's skills focus on improving his capacity as your protector through taunts, new attacks and stuns. When acting in a support role, Kormac can increase party-wide health and resource regeneration, or quickly heal you with a burst of radiance.
Skills based on level 60.
Skill
Level
Effect
Heal


5
Heals you or the Templar for 2030 Life.
Cooldown: 15 seconds
Intervene


5
Taunts enemies attacking you for 5 seconds when you are below 50% health.
Cooldown: 30 seconds
Intimidate


10
Enemy units are slowed by 50% for 3 seconds when they hit the Templar. Does not stack with other slows.
Loyalty


10
Regenerates 50 Life per second for you and the Templar.
Charge


15
Charges a target, dealing 150% weapon damage and stunning all enemies within 15 yards for 3 seconds.
Cooldown: 15 seconds
Onslaught


15
Delivers a massive blow to an enemy for 200% weapon damage plus 120 - 162 physical damage.
Cooldown: 15 seconds
Guardian


20
When an ally is low on health, the Templar will charge enemies near them, damaging for 300% weapon damage and stunning for 5 seconds. He will also heal the ally for 1218-1624 Life, and grant 59 Life regeneration for 15 seconds.
Cooldown: 30 seconds
Inspire


20
Increase resource generation for all allies that the Templar is following.
Mana: +13 per second. Arcane Power: +1 per second. Hatred: +1 per second. Discipline: +1 per second. Fury: +10% generated. Spirit: +10% generated.
Kormac is voiced by Dominic Keating, who sci-fi fans may recognize for his role as Lt. Malcolm Reed on Star Trek: Enterprise.
External links
Edit