Kyla is a little girl and resident of Westmarch.
Despite her age, she valiantly (although to little effect) defended the house she was holed up in and her friend from the Reapers. With the aid of the Nephalem, they both escaped to the Survivors' Enclave. She never returned the sword she "borrowed" from him, though.[1]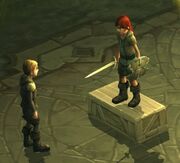 Kyla is found in Captain Haile's House during the "Hide and Seek" event.
After the event has been complete at least once, Kyla can always be found in the Enclave, playing around (directly to the south from Shen's cart, where the preaching madman used to be). If approached, she will exclaim "Papa!" happily, or just chat with the small boy (mostly about how awesome she is compared to him).
References
Edit