The Launcher is a program that keeps track on the current state of the game client. If the client is up to date, you will just get a message that says so.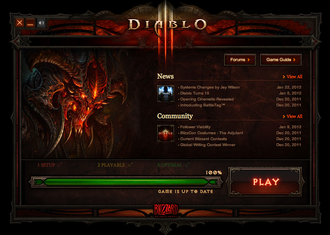 If the client needs to be patched to a newer version, you will see a progression bar which can have the following colors with the following meaning:
Red: The client is not ready to be started. There is insufficient data to start playing. The patching must progress further to get in the yellow state:
Yellow: The client can be started but not all of the patch is ready. This can slow down the gameplay. Not every detail is visible in the game world;
Green: The client can be started and the patching is nearly done. A minimum of data is needed to fully complete the patching process.
If the state is red, the PLAY button has been disabled. If the state is yellow or green, the PLAY button becomes or al ready is enabled.