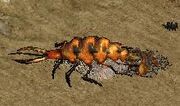 Lay Egg is a monster spawning ability of the Sand Maggot type of monsters. The giant insect adults will occasionally drop an egg on the ground where it will pulsate for a period of time before hatching into young.
This ability can quickly fill the battlefield with vicious reinforcements as soon as the eggs begin hatching, easily overwhelming an unprepared adventurer. Therefore it is advisable to kill them before they hatch.
Ad blocker interference detected!
Wikia is a free-to-use site that makes money from advertising. We have a modified experience for viewers using ad blockers

Wikia is not accessible if you've made further modifications. Remove the custom ad blocker rule(s) and the page will load as expected.