Life
Talk

0
5,080pages on
this wiki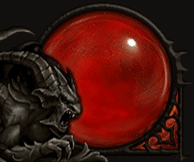 Life represents the maximum amount of hit points that a character can have.
Life is affected by some magic items and by Vitality. After taking damage, the number of current hit points is decreased. When it reaches 0, you die.
Diablo II
Edit
In Diablo II, life can be replenished by the use of Healing Potions and Rejuvenation Potions. Healing potions heal over time while Rejuvenation potions act instantly.
Life can also be increased permanently by use of certain elixirs prepared by talented alchemists like Alkor in Kurast, who increased th player's life permanently by 20.
Note that you cannot die from poison, because poison can only lower your hit points to 1. But your hireling can die from poison.
Diablo III
Edit
In Diablo III, you can heal to full life by talking to a priest (symbolized by a heart on your map) and by clicking "receive a blessing".