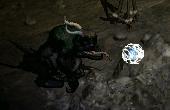 The Lightning Globe skill is the signature move of the Tainted Demons. It can seriously hurt if the player is low on Lightning Resistance.
Mechanics
Edit
The Tainted have, along with their powerful melee attack, a ranged lightning attack. This can be particularly devastating when a unique Tainted monster appears with his minions in Hell difficulty.
Being a purely elemental attack, and that too of Lightning, which has a very large damage range, it is a medium ranged ability that takes time to fire.
They typically do not start casting the Lightning Globe until they have been injured.
Ad blocker interference detected!
Wikia is a free-to-use site that makes money from advertising. We have a modified experience for viewers using ad blockers

Wikia is not accessible if you've made further modifications. Remove the custom ad blocker rule(s) and the page will load as expected.