Lloigor the Crazed, Demented Conjurer,
 is a character in
Diablo III
.
He is a crazed magus found in the fourth level of the Cathedral, found inspecting Zhar the Mad's tome. Upon interacting with him, he first drops some gold, but if after that player touches the tome, he becomes hostile and the player must kill him.
He uses the same model as a Hired Mage, and may be considered the unique mage for that purpose.
Lloigor attacks by hurling dual Arcane bolts and summons Carrion Bats at his side.
Stay back, vagabond! This tome is mine, and mine alone! If you are wise, this gold will satisfy your curiosity.
Ah, so you wish to know what I've learned? How I've suffered! So be it!
Behind the Scenes
Edit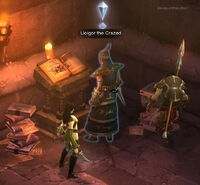 Lloigor the Crazed is a reference to Zhar the Mad, a character from the first Diablo game, encountered on the 8th level of the Cathedral and having the same in-game role.
Also, he is a reference to the Cthulhu Mythos, since Zhar and Lloigor are the Twin Obscenities in Cthulhu universe.
Ad blocker interference detected!
Wikia is a free-to-use site that makes money from advertising. We have a modified experience for viewers using ad blockers

Wikia is not accessible if you've made further modifications. Remove the custom ad blocker rule(s) and the page will load as expected.