Magic Items
Talk

0
5,073pages on
this wiki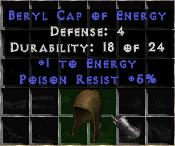 Magic Items are fairly common in Diablo 2. They are denoted by their name being colored blue, as opposed to a normal item's white. When a Magic item is dropped from a chest or monster, it initially appears unidentified. Unlike in the original Diablo, you cannot equip an item you haven't identified yet. There are two ways to identify (or ID) such an item. First, you can purchase a Scroll of Identify, and use it on the item. Second, if you've finished the Act 1 quest; The Search for Cain, you can ask Cain to identify the item for you. He will ID items at no charge, if you succeeded in saving him, or by a small fee if you did not complete the quest. It is as simple as selecting the "Identify Items" command when you speak to him.
When you identify a Magic Item, you will see certain words added to the item's name, either prefixes (Such as "Brutal Short Sword"), suffixes ("Axe of Frost"), or a combination of both ("Glowing Ring of Craftsmanship"). Each prefix or suffix represents one magical property on the item. However, multiple prefixes or suffixes can't appear on one single Magic Item (For more on that, see Rare Items). This means the most special attributes a Magic item can have is two. The affixes on a Magic item are determined by the game the moment the item appears, not when you identify it. There is a 1/4 chance of a Magic item having both a prefix and a suffix, a 1/4 chance of only a prefix, and a 1/2 chance of only a suffix.
Prefixes, Suffixes and their Meanings
Edit
Making sense of it all
Edit
The way prefixes and suffixes work are set in stone, a named prefix/suffix will give a bonus of (*) amount toward a specific stat, affiliated with that name. The * represents a randomly selected number within a specific number range (ie. Adventuring grants +1-8 bonus experience per monster kill, and Clever grants 9-16), notice that the effect stays the same, but the stats change as it goes from one teir to the next. The * notation can be read in one of three ways. There is the *, which represents a flat number; the *%, which represents a fixed percentage; or *-*, representing a range between 2 set numbers (such as with damage bonuses for weapons).
The * represents number ranges of the said affix's tier that are currently unknown. I encourage anyone who discovers these ranges to please post with new affix names, effects, and stats as they are able. Thank you.
Prefixes -
Edit
Farming Prefixes
Edit
| Name | Effect |
| --- | --- |
| Scouting | *% better chance of finding magical items. |
| Lucky | *% Bonus Gold from monsters. |
| Adventuring | Monster kills grant +* bonus experience. |
| Gathering | Increase gold and health pickup by * yards. |
| Socketed | Item has 1 or more gem sockets. |
| Reptilian | Regenerates * life per second. |
| Clever | Monster kills grant *% bonus experience. |
Offensive Prefixes
Edit
| Name | Effect |
| --- | --- |
| Keen | Attack speed increased by *%. |
| Iron | Critical hit chance increased by *%. |
Class Specific Prefixes
Edit
Name
Class
Effect
Steady
Demon Hunter
+* Max discipline.
Spiteful
Demon Hunter

Attack speed increased by *%

Increases Hatred regeneration by % per sec.

Illuminating
Monk

+* Vitality

Increases Spirit regeneration by * per sec.

Forboding

Wizard

+* Max Arcane Power

Critical hits grant * Arcane Power

Sly
Wizard
+* Maximum Arcane Power
Infusing
Witch Doctor
Increases Mana Regen by * per second.
Suffixes -
Edit
Bear: +* Vitality
Lion: +* Strength
Hawk: +* Dexterity
Focus: +* Intelligence
Snake: +*-* Poison Damage
Frost: +*-* Cold Damage
Shocking: +*-* Lightning Damage
The * represents number ranges of the said affix's tier that are currently unknown. Please add them if you know them.
Magic-Only Affixes
Edit
Almost every attribute that appears on Magic items can also appear on Rare items, but there are a few that are Magic-only (they will only appear on Magic items). This is because the affixes would give an unbalanced amount of power to a Rare item.