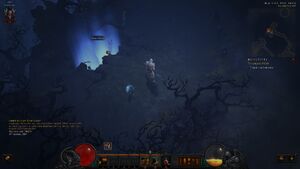 The Mass Grave is a small dungeon in the Old Tristram Road in Act I of Diablo III. It can be accessed by entering the hole in the ground on the way to the Tristram Cathedral. It should be taken into consideration, however, that it is not there in every game.
Upon entering, the player will be ambushed by six Risen. There is nothing special about this area but a player can clear it in a few seconds to get some gold, and it needs to be explored in order to get the achievement No Stone Unturned.
With some luck, either Latimorr Edgars or Marko may spawn in this area.
Ad blocker interference detected!
Wikia is a free-to-use site that makes money from advertising. We have a modified experience for viewers using ad blockers

Wikia is not accessible if you've made further modifications. Remove the custom ad blocker rule(s) and the page will load as expected.