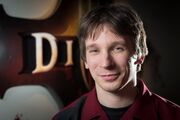 Matthew Berger is a senior game designer for Diablo III.[1]
Biography
Edit
Berger joined Blizzard Entertainment in 2012 as a senior level designer after holding numerous design lead roles at Relic Entertainment, including multiplayer lead on Company of Heroes 2, campaign lead on Warhammer 40,000: Space Marine, lead designer on Company of Heroes Online, and campaign supervisor on Warhammer 40,000: Dawn of War II. He is also credited on several other titles as a designer, including multiple Dawn of War and Company of Heroes expansions.
Berger was part of the core design group that was charged with bringing Diablo III from PC to console. While his expertise has been applied to numerous areas of the game, his core focus was on updating boss fight mechanics and on gameplay elements like Monk combo skills and console-specific features as well as developing Rift Bosses for PC.[2]
By 2017, Berger was the game's senior game designer.[1]

This section contains facts and trivia relevant to this article.
In his free time, Berger enjoys playing board games and tabletop wargaming, though he wishes he had more time to dedicate to painting his armies. He also enjoys teaching his children French and reading, with a particular interest in politics, history, and graphic novels.[2]
References
Edit
↑ 1.0 1.1 2017-03-14, PAX East 2017 Diablo III Rise of the Necromancer Hands-On Preview. Blizzplanet, accessed on 2017-03-15
Ad blocker interference detected!
Wikia is a free-to-use site that makes money from advertising. We have a modified experience for viewers using ad blockers

Wikia is not accessible if you've made further modifications. Remove the custom ad blocker rule(s) and the page will load as expected.