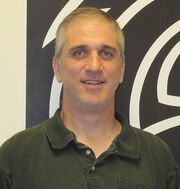 Max Schaefer is a former member of Blizzard North, and brother of Erich Schaefer.
Biography
Edit
Alongside his brother and David Brevik, Schaefer was one of the founders of Condor, later known as Blizzard North. He worked on both Diablo and its sequel.[1] In the latter, he was in charge of the background team, which designed the appearance of the game's locations.[2]
Alongside his brother, Schaefer founded Flagship Studios, and later, Runic Games. He currently remains working with the company.[1]
References
Edit
Ad blocker interference detected!
Wikia is a free-to-use site that makes money from advertising. We have a modified experience for viewers using ad blockers

Wikia is not accessible if you've made further modifications. Remove the custom ad blocker rule(s) and the page will load as expected.