"Two decades ago, my mentor faced the forces of evil and emerged victorious. I cannot hope to surpass his achievements, but I will try to bring balance to the raging forces that threaten to tear the world asunder in these days. The spirits are restless near Caldeum, I must quiet them."

—

Mehtan in his log(src)
Mehtan the Necromancer is a member of the Priests of Rathma and an NPC in Diablo III.
Biography
Edit
Mehtan was considered to be a promising student, and was the only student ever taken by Xul.[1] Mehtan later acknowledged that he could not surpass his mentor's achievements, but intended to nonetheless bring Balance to Sanctuary.[2]
The Restless Sands
Edit
In 1285, Mehtan was in the Stinging Winds near Caldeum. Powerful spirits haunted the ruins in the area, but he was not powerful enough to defeat them (though he was able to track them). He feared that the Coven would try to use the spirits to further their goals.
Mehtan explained the situation to the Nephalem, instructing them to find and confront the spirits. The nephalem succeeded, and aided Mehtan when the Coven attacked. Mehtan could thus begin the work of freeing the spirits, though he feared the Coven would find other sources of power to exploit. Regardless, he bid his ally farewell.[3]
The Necromancer's Choice
Edit
The Nephalem later encountered Mehtan in Westmarch. He was there to fight Malthael's Reapers by summoning them with a beacon, which the Nephalem activated. After defeating the Reapers, they spoke one last time before Mehtan departed.[4]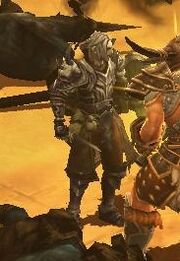 Mehtan can randomly be found in the second act of Diablo III at the Stinging Winds. He initiates "The Restless Sands" event. In it, he and his skeletons will fight alongside the player if foes are near enough. At the end of the quest, he will drop his log.
Mehtan also has a chance of appearing briefly in Act V at the Hall of Dark Arts in Westmarch Commons. He starts "The Necromancer's Choice" event. At the end of the event, he will uncurse a radiant chest, allowing the Nephalem access to its contents.
He is referenced in flavor text of the Canem Mortem Liber.
References
Edit
Ad blocker interference detected!
Wikia is a free-to-use site that makes money from advertising. We have a modified experience for viewers using ad blockers

Wikia is not accessible if you've made further modifications. Remove the custom ad blocker rule(s) and the page will load as expected.