Ad blocker interference detected!
Wikia is a free-to-use site that makes money from advertising. We have a modified experience for viewers using ad blockers

Wikia is not accessible if you've made further modifications. Remove the custom ad blocker rule(s) and the page will load as expected.
Mystic Ally


Class: Monk
Required Level: 22
Skill Category: Focus
Active / Passive
Cooldown: 30 seconds

Passive: A mystic ally fights by the Monk's side. The ally deals 130% of their damage as Physical per swing. When the ally dies, it is reborn after 5 seconds.

Active: The mystic ally has its damage increased by 50% for 10 seconds.

Damage Type: Physical
Other Stats: Summon; Can be cast on the move; Does not interrupt casting; Can be used while under crowd control effects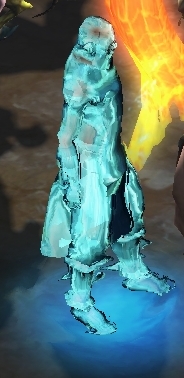 Mystic Ally is a Focus Monk skill in Diablo III, unlocked at level 22.
Passively summons a permanent companion: the spiritual copy of the Monk. It follows the Monk around, attacking enemies with the same attack speed as the Monk, dealing 130% damage as Physical per hit. It cannot use any of the Monk's skills. The Ally can be killed (has the same Toughness as the Monk), but is automatically revived in 5 seconds.
When activated, increases damage done by the Ally's attacks by +50% (to 195% damage as Physical).
Non-rune enhancements
Edit