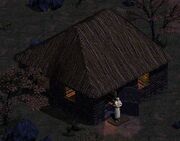 Pepin the Healer is Tristram's town healer. He also buys and sells healing potions and elixirs. If the well is tainted, it is Pepin who will initiate the Poisoned Water quest, and he is also interested in studying the brain of a demon.
From Diablo
Edit
What ails you, my friend?
She claims that they are visions, but I have no proof of that one way or the other.

This section contains facts and trivia relevant to this article.
Ad blocker interference detected!
Wikia is a free-to-use site that makes money from advertising. We have a modified experience for viewers using ad blockers

Wikia is not accessible if you've made further modifications. Remove the custom ad blocker rule(s) and the page will load as expected.