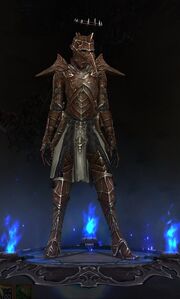 Pestilence Master's Shroud is a Class Set for Necromancers in Diablo III, obtainable at level 70. It can only drop on Torment difficulty.
All set pieces are restricted to Necromancers. Even transmogrification of these items is only available to Necromancers.
The set is Plague-themed, and is named after Deathspeaker Mykan. It focuses on corpse skills and Bone Spear.
The set consists of six pieces. All six are required to complete the set, and all six are Necromancer-restricted.
Set Bonus:
Each corpse consumed by any skill fires a Corpse Lance at a nearby enemy (2 pieces)
Each enemy hit with a Bone Spear reduces the Necromancer's damage taken by 2% for 15 seconds, stacking up to a maximum of 50% (4 pieces)
Each corpse consumed by any skill grants an Empowered Bone Spear charge that increases the damage of the next Bone Spear by 3000% (6 pieces)
The first bonus is, in fact, the only way to fire Corpse Lance without manually aiming it. If no enemies are found, the extra Lance will not be fired. Each corpse will count as a full cast, with all runes and enhancements, automatically finding a random target in range. Note that with the Blood Lance rune, each Lance will drain Life, which may lead to uncontrolled injury with lots of corpses around. If a corpse is consumed by Corpse Lance, it will fire two of them.
The second bonus is multiplicative, and results in nearly-permanent halving of all incoming damage.
The third bonus is applied on any corpse (not corpse-consuming cast), up to 100 charges at a time. Damage buff is static (does not change with the number of accumulated charges), and each cast consumes one charge to multiplicatively boost one Bone Spear.
The Johnstone, Corpsewhisper Pauldrons and Land of the Dead are very potent additions to this set.

This section contains facts and trivia relevant to this article.
True to its name, this set is shaped like rust-ridden medieval armor, with the mask clearly being stylized to look like plague doctor mask.
Ad blocker interference detected!
Wikia is a free-to-use site that makes money from advertising. We have a modified experience for viewers using ad blockers

Wikia is not accessible if you've made further modifications. Remove the custom ad blocker rule(s) and the page will load as expected.