Ad blocker interference detected!
Wikia is a free-to-use site that makes money from advertising. We have a modified experience for viewers using ad blockers

Wikia is not accessible if you've made further modifications. Remove the custom ad blocker rule(s) and the page will load as expected.
Plague Javelin is an Amazon Skill in Diablo II.
Practiced and cunning warriors are able to incorporate poisonous vegetation into the organs of wildlife, creating highly infectious and deadly bladders that the Amazons affix to their javelins. These javelins strike a target and explode into noxious and putrescent clouds. Entire armies of creatures and of men have been slaughtered by the ingenious use of these biological agents. The choking cloud created by a plague javelin will incapacitate even the strongest foes.
General Information
Edit
Synergies
Edit
Gives synergy to:
Receives synergy from:
The upgrade to Poison Javelin, this ability does slightly less poison damage, but it does it much faster, and adds to Attack Rating, allowing the user to hit more often. The javelin also explodes into a large cloud of poison on contact, doing a bit of AoE poison damage.
Skill Progression
Edit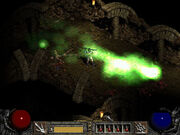 Level
1
2
3
4
5
6
7
8
9
10
11
Mana Cost
7
7.5
8
8.5
9
9.5
10
10.5
11
11.5
12
Poison
Damage
23–37
42–58
65–83
91–111
122–143
156–179
194–219
235–262
310–339
391–422
481–514
Duration
3
3.4
3.8
4.2
4.6
5
5.4
5.8
6.2
6.6
7
Bonus Attack
30%
39%
48%
57%
66%
75%
84%
93%
102%
111%
120%
Level
12
13
14
15
16
17
18
19
20
25
Mana Cost
13
13
13
14
14.5
15
15.5
16
16.5
19
Poison
Damage
578–612
682–718
794–833
913–953
1040–1082
1233–1277
1439–1485
1657–1705
1888–1937
?
Duration
7.4
7.8
8.2
8.6
9
9.4
9.8
10.2
10.6
12.6
Bonus Attack
129%
138%
147%
156%
165%
174%
183%
192%
201%
246%