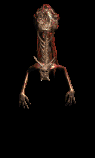 Putrify is a Monster Skill used by Putrid Defilers in Act V of Diablo II: Lord of Destruction. Though it seems harmless, it can prove deadly when left unchecked.
When a Putrid Defiler casts Putrify, the Defiler will hover towards another nearby monster. The monster will receive a special aura, appearing as reddish-yellow lines. When the monster is killed, several Pain Worms spawn from its corpse. When multiple monsters are infected with Putrify this can prove challenging.
Ad blocker interference detected!
Wikia is a free-to-use site that makes money from advertising. We have a modified experience for viewers using ad blockers

Wikia is not accessible if you've made further modifications. Remove the custom ad blocker rule(s) and the page will load as expected.