Rakanishu's Blade
Talk

2
6,011pages on
this wiki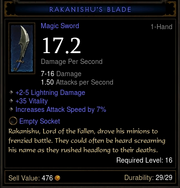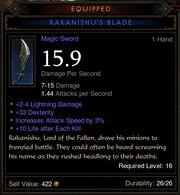 Rakanishu's Blade is a drop from a randomly spawned event in the Dahlgur Oasis or can be bought on the Auction House (search for level 16 magic sword). It is purported to be the weapon of the Fallen "demigod", Rakanishu.
It is not located within a dungeon, but can be found in the open, explorable world of the Oasis. Spawn points may vary, but it can spawn in the Southeast portion of the map from the waypoint.
The blade is a guaranteed drop (only on Normal difficulty) from the Shrine of Rakanishu event, which gives you an achievement for Act II's campaign, and a bonus achievement when completed in a cooperative game. Upon slaying the Avatar of Rakanishu that spawns at the climax of that event, the blade will be dropped.
Bashanishu
Edit
Bashanishu is a challenge achievement available to players in single or cooperative games. It is completed by hitting the rare spawn Bashiok (Monster) with the blade, but is only granted to players that have hit Bashiok with the blade, and not all players in the party.
Select normal difficulty, then Blood and Sand - begin quest.
Select skills that allow you to travel faster.
Use the waypoint to Dahlgur Oasis.
Move east, then north until you reach the north-eastern most corner of the map.
Move south-west and check the quest hub, you want one called Shrine of Rakanishu.

If it's not there, leave the game, resume and go to step 3.
If it's there, do the quest and pick up Rakanishu's Blade (some claim the drop rate isn't 100%, if it hasn't dropped make sure You are running at normal difficulty and try again), then leave the game and resume.

Equip Rakanishu's Blade, unequip items with thorns effect and any weapon in off-hand slot.
Dimiss the follower, don't use any summons/pets.
Mouse over any skill (preferably LMB or RMB), then click-hold-drag away and release whatever skill you have there, leaving only a basic attack in that spot (if you can't do this, go to options -> gameplay and turn on elective mode).
Use the waypoint to Dahlgur Oasis.
Look all around the map (other unique shamans won't mean Bashiok not spawning!) for a unique monster named Bashiok that looks like a Fallen Shaman.

If he's not there, leave the game and resume, then repeat previous two steps.
If he's there, hit him with a basic attack.