Rakanishu's Blade
Talk

1
5,071pages on
this wiki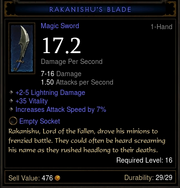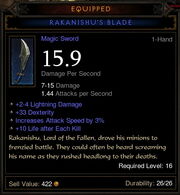 Rakanishu's Blade
is a drop from a randomly spawned event in the
Dahlgur Oasis
.
It is not located within a dungeon, but can be found in the open, explorable world of the Oasis. Spawn points may vary, but it can spawn in the South East portion of the map from the waypoint.
The blade is a guarunteed drop (only on Normal difficulty) from the Shrine of Rakanishu event, which gives you an achievement for Act II's campaign, and a bonus achievement when completed in a cooperative game.
Bashanishu
Edit
Bashanishu is a challenge achievement available to players in single or cooperative games. It is completed by hitting the rare spawn Bashiok (Monster) with the blade, but is only granted to players that have hit Bashiok with the blade, and not all players in the party.
Confirmed. Not super rare, but the guardian of the portal to Old Tristram.