"You think yourself free from the chains of fate, Nephalem. But all will kneel before lord Diablo."
Rakanoth[1]
Rakanoth, Lord of Despair was a powerful demon.
Biography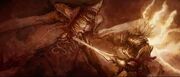 Rakanoth was originally a servant of Andariel, the Maiden of Anguish. He also served as a warden to the imprisoned angel Izual, whom he guarded in the Plains of Despair - his own 'realm'.[citation needed] He also fought in the Great Conflict, battling Tyrael on at least one occasion.[2]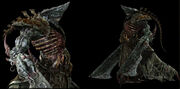 When Diablo incorporated the essences of the six other Great Evils and became the legendary Prime Evil, he emptied Hell's forces for an assault on the High Heavens. Rakanoth was among those he summoned and was assigned the task of guarding the captured archangel Auriel, holding her in the Library of Fate. However, a group of nephalem rescued the angel and slew Rakanoth.[1]
In-game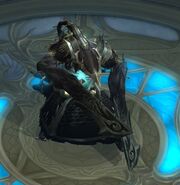 Rakanoth appears as a boss in Act IV of Diablo III. He must be defeated in order to free Auriel and complete the Light of Hope quest.[1]
Trivia

This section contains facts and trivia relevant to this article.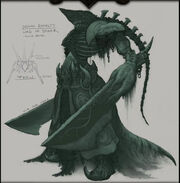 Rakanoth's design was originally used by the Blizzard North development team for Azmodan, but was changed at some unknown point in time by the current Diablo III development team.[citation needed]
References
↑ 1.0 1.1 1.2 Diablo III, Act IV
↑ Diablo III Intro Cinematic
Videos