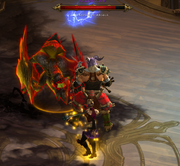 Razorclaw, Reaper of Angels, 
is a
Super Unique
Armored Destroyer
found in the very end of the
Gardens of Hope
Second Tier in
Diablo III
. It only appears in
Campaign Mode
.
Instead of falling from the sky, it waits on the ground near the portal, even before players destroy both Hell Rifts. Killing it is not required for the quest, but Tyrael, if he spots this monster, will not speak to players until the combat is over.
In combat, it has Fast, Jailer and Electrified affixes, and in addition has triple attack speed.
Ad blocker interference detected!
Wikia is a free-to-use site that makes money from advertising. We have a modified experience for viewers using ad blockers

Wikia is not accessible if you've made further modifications. Remove the custom ad blocker rule(s) and the page will load as expected.