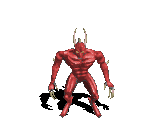 Red Storms
are the first in the
Lightning Demon
Class. They are
Demons
. These guys are quite nasty, as they will throw lightning at you and have a claw attack which they use when you get to close. Beware, as this attack can take you down in a few swipes and you will take less damage from lightning attacks than from claw attacks so stay at a distance and use fire spells on them.
Resistances and Immunites
Edit
Resistances: Lightning
Immunities: Magic
Appearance
Edit
Levels 9-11
Ad blocker interference detected!
Wikia is a free-to-use site that makes money from advertising. We have a modified experience for viewers using ad blockers

Wikia is not accessible if you've made further modifications. Remove the custom ad blocker rule(s) and the page will load as expected.